Special offers
02.05.2017, May 2017 special offer

Latest news
19.04.2017, NT-MDT SI spring activities in Europe and USA
Last month NT-MDT Spectrum Instruments participated several specialized conferences and exhibitions around Europe and USA.
Some of them are:
Lednice SPM Workshop in Česká republika;
Graphene Conference in Barcelona;
Sondes Locales SPM forum in Mountpellier France;
4th Annual Conference on Optical NanoSpectroscopy in Lisbon, Portugal;
SI DPG in Dresden, Deutschland;
APS in New Orleans, LA
NT-MDT SI demonstrated the modern solutions for Scanning Probe Microscopy and ran life demonstrations and sample measurements on the TITANIUM, SOLVER Nano and the NTEGRA systems. The reports and presentations of various applications in AFM / QNM / SNOM / AFM-Raman / TERS and IR s-SNOM modes were also introduced while the workshops.
We would like to appreciate all the visitors coming to our booths worldwide for your attention and the interest to our products and innovations. We are happy to provide scientific researches with the most complete and up to date instrumentation and support.
See you on the upcoming events!
05.04.2017, NT-MDT Spectrum Instruments Exhibits at DPG 2017 Spring Meeting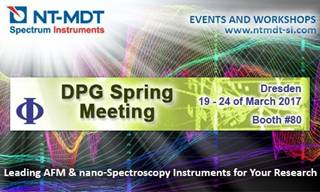 NT-MDT Spectrum Instruments proudly exhibited at the recent DPG 2017 Spring Meeting in Germany, Dresden, March 19th- 24th 2017. The conference took place this year at TU Dresden. DPG Spring meetings take place at varying locations and is one of the largest Physics Congresses in Europe attracting almost 10,000 Physicists from all over the world to participate.
From cutting edge scientific research to routine surface investigations, NT-MDT Spectrum Instruments has a unique and unrivalled portfolio of Scanning Probe Microscopes. Our application-focused instruments provide you with a full range of capabilities in AFM-Raman, high-resolution, multi-frequency measurements, and AFM based nanomechanics.
Dr Sergey Lemeshko Sales Manager responsible for the German Market presented TITANIUM, our revolutionary AFM, on which he generated high quality scans and delivered results in real time.
NT-MDT Spectrum Instruments would like to sincerely thank all those that visited us at Booth # 80 Zelt A and met with our experts to discuss your AFM needs and were happy to find solutions.
For further information on upcoming events and workshops for NT-MDT Spectrum Instruments please visit http://www.ntmdt-si.com/
04.04.2017, Sondes Locales, Forum SPM 201

NT-MDT was delighted to have the opportunity to exhibit and take part at Sondes Locales 2017 in Montpellier Juvignac France from the 20th to 24th of March 2017.
This conference was the 20th edition of its kind, the local organising committee made this event a unique opportunity for synthesis and perspective for the Nano Technology Community.
NT-MDT will also be exhibiting at various Conferences and Exhibitions throughout the rest of 2017. Please check our Events section on our website for more information.