Latest news
04.06.2016, Kavli Prize in Nanoscience
Sincere congratulations to G.Binning,C.Gerber and C.Quate with #Kavli2016 Nanoscience Award for the invention and realization of atomic force microscopy, a breakthrough in measurement technology and nanosculpting that continues to have a transformative impact on nanoscience and technology!
kavliprize.org/prizes-and-pic.twitter.com/EKvTZP5mua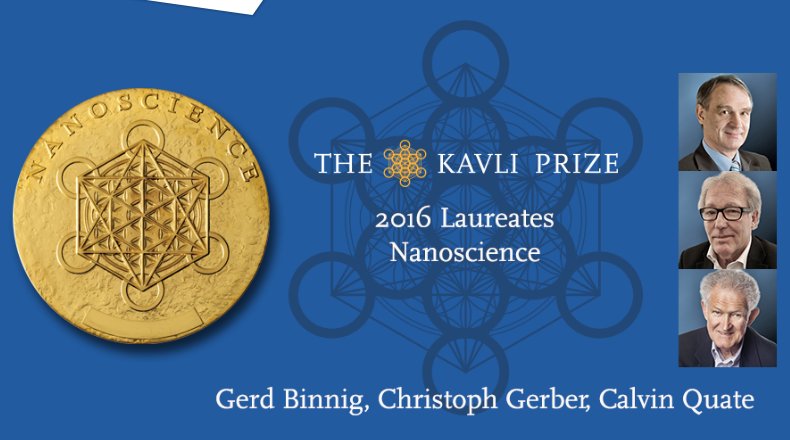 03.06.2016, NT-MDT presents conductive probes with the modified coating W2C+
Due to volume doping with anticorrosion elements the new coating W2C+, which was earlier proven to be stable under high currents and pressures, may also work for a long time in high humidity atmosphere.
Several experiments were carried out to check the result. Two sets of probes coated by W2C and W2C+ layers correspondingly were being placed into atmosphere of more than 90% humidity for several days. Performance capabilities of the probes were tested by current-voltage curves and scans on HOPG. Before being held in humid air all cantilevers worked correctly showing good conductivity. But already after 8 days old-type coating have lost their conductive properties. The same time probes W2C+ didn't stop conducting even after 16 days of storage in 90% and more humidity.
We're also delighted to announce that since June 2016 we will sell only new W2C+ probes from our web-site. The same time, cost of this model stays the same.
More of all, we will be glad if our customers try these probes' possibilities on practice. When the one orders any model of conductive probes from our web-site (http://www.ntmdt-tips.com/) this summer we will add to the order a test box of 3 cantilevers HA_C/W2C or HA_NC/W2C at choice.
For more information - please, visit NT-MDT main web-site.
17.05.2016, Workshop Announcement Rome Italy 2016
NT-MDT is excited to announce an upcoming workshop for Italian customers to be held in Rome, Italy June 17th 2016. The Workshop will take place at the GRAND HOTEL PALATINO, Rome, Italy, June 17th 2016 focusing on techniques of AFM, Raman and Techniques of Advanced AFM, Super resolution imaging – Tip Enhanced Raman Scattering (TERS).
During this arrangement CEO of NT-MDT America., Dr. Sergey Magonov (CEO of NT-MDT America), will present a talk on Compositional imaging of complex materials with atomic force microscopy. Our application scientist, Dr Sergey Lemeshko, will also present a talk on reliable TERS probes based on Si-cantilevers for nanoRaman imaging and nano-IR sSNOM.
As a practical part we will provide and demonstrate measurements on the Ntegra Platform, and TITANIUM devices.
On our main web site you may find more information about the workshop and our contact persons.
Special offers
01.06.2016, Special offer June - July 2016

We're glad to announce a new summer special offer for everybody who acquires NT-MDT cantilevers!
During the next two months (June and July of 2016) our customers will get an additional 12% discount for any amount of probes of Golden and Etalon.
This offer comprises a wide range of cantilevers intended for both standard topography measurements for special techniques (conductive, magnetic).
For any questions or placing an order, please, contact us:
Evgeniy Lisov – lisov@ntmdt.ru;
Agne Mazgelyte - agne@spectrum-instr.com.